Kazakhstan Youth Engage in Social Entrepreneurship
Five winners of the University of Central Asia (UCA) and Coca-Cola Change the World Around You! competition received grants of up to $3,900 each from UCA to implement their projects at a ceremony held at the Almaty Management University (ALMA) (formerly IAB) on 10 July 2015.

The Change the World Around You! competition encourages and equips young people to design and implement social entrepreneurial projects addressing community challenges. It was organised by UCA's School of Professional and Continuing Education (SPCE) in Kazakhstan, in partnership with ALMA, with funding from Coca-Cola and support from the Aga Khan Foundation USA.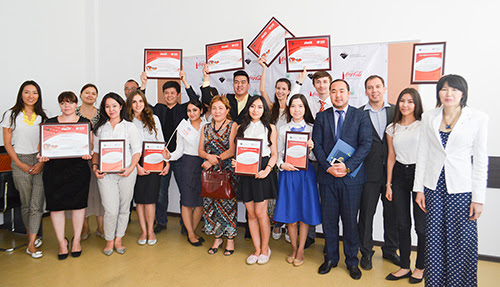 Participants also received a Certificate of Achievement upon successful completion of the social entrepreneurship programme implemented by UCA SPCE under the project Empowering Young People to Social and Economic Development of the Country, which aims to reduce youth unemployment and address a number of pressing social problems.

More than 270 young people between the ages of 19 and 29 submitted applications to the competition after over 385 individuals took part in a one-day workshop to generate social ideas. Fifteen finalists were then selected to attend the social entrepreneurship programme offered by SPCE.

The training covered a range of topics such as social entrepreneurship, social marketing, presentation and negotiation skills, information and communications technology for business planning and the basics of business planning for social projects. The students then went on to design and implement projects addressing important social issues such as employment of people with disabilities and women from socially vulnerable groups, training for orphans, psychological support for children with autism and other projects.

The finalists submitted business plans to an independent selection committee comprised of representatives of the Almaty City Akimat, the Eurasia Foundation of Central Asia, ALMA and UCA. The Selection Committee selected five winners based on the sustainability, feasibility, originality and social importance of their projects.

Some winning projects included opening an art studio with free access to socially vulnerable groups and children's homes, inventing technology to measure blood sugar levels for individuals with diabetes and creating a website for yard playgrounds.

"This is the second Change the World! competition in Kazakhstan. Thanks to our project, more than 22 social enterprises now operate in Kyrgyzstan and Kazakhstan," said Gulnara Dzhunushalieva, SPCE Director. "Experience shows that young people are ready to champion for the benefit of communities and effectively address challenges. We look forward to expanding our initiatives in the future."

"The geographic spread and the number of participants increased. It is encouraging to see young people actively participating in the cause. Many participants have already begun implementing their projects," said Daniya Asanova, Vice-Rector for Science and Strategic Development at ALMA.