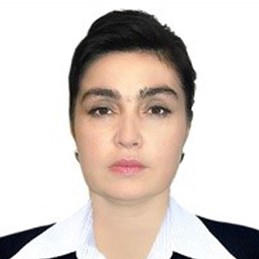 Dr Lutfiya Abdulkholiqzoda has been the Deputy Chairperson of the Committee on Science, Education, Culture and Youth Policy in the Parliament of Tajikistan since March 2020. Prior to being appointed in this role, she was Head of the Department of Science and Education of the Executive Apparatus of the President of the Republic of Tajikistan for one year. She served as Rector of the State Institution of Education "Institute of Public Administration under the President of the Republic of Tajikistan" from 2015 to 2019. She was also Pro-Rector of the Tajik Institute of Finances and Economics from 2012 to 2015. Dr Abdulkholiqzoda taught Russian language and literature for national schools and was a teacher of Tajik language and literature for Russian-language schools between 1993 – 2003.
Dr Abdulkholiqzoda holds a Candidate of Sciences in pedagogy (PhD), Associate Professor, and graduated in 1993 from the State Pedagogical University of Tajikistan.
She serves as Deputy of Majlis (house) of People's Deputies of Sino District of Dushanbe of the 5th Convocation, and holds several state awards including a Medal "Meritorious Service" (2014); Medal "For Distinguished Service" (2009); Award "Honoured Worker of Education of Tajikistan" (2010); awards of Ministry of Defense and Ministry of Culture.