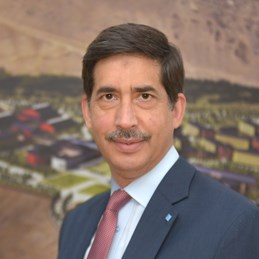 Prof. Dr S. Sohail H. Naqvi is the Rector of the University of Central Asia. Prior to joining UCA in August 2018, Dr Naqvi served as Vice-Chancellor of the Lahore University of Management Sciences (LUMS) for five years where he spearheaded the transition of this prestigious, primarily undergraduate, institution into the top-ranked research universities of the country. The QS Asian University Ranking of LUMS increased from 191-200 range in 2014 to 103 in 2018. The student body at LUMS during this period increased by 30% with a decrease in student-teacher ratio and a significant increase in quality of intake.
He also led the establishment of the LUMS Center for Entrepreneurship that has become the premier hub of innovation in the country following the establishment of the National Incubation Center in Lahore. The introduction of a formalised quality assurance system across the university across all disciplines, accreditation of programmes, and rigorous implementation of the tenure track system of appointment brought a paradigm shift in the quality of education and research at the university. 
Prior to LUMS, he was the Executive Director of the Higher Education Commission (HEC) for eight years. He oversaw the implementation of an ambitious portfolio of programmes, which resulted in significant growth of research in Pakistan's universities, the quadrupling of student enrolment, standardisation of programmes at the undergraduate and postgraduate level with clear quality-related benchmarks along with the implementation of a comprehensive higher education quality assurance regime. 
Dr Naqvi has extensive teaching, research, and entrepreneurial experience both in the US and Pakistan, and has also been a consultant on higher education for the Asian Development Bank and the World Bank. He was awarded the Ordre des Palmes académiques (Order of Academic Palms), with the rank of Chevalier, by the French Government, and the Sitar-e-Imtiaz (Star of Excellence) by the Government of Pakistan for his services to higher education. 
He earned his BSc (with the highest distinction), MSc and PhD degrees (all in Electrical Engineering) from Purdue University, USA. He served as an Assistant and Associate Professor of Electrical Engineering at the University of New Mexico, Albuquerque, USA, before returning to Pakistan in 1995 to join the Faculty of Electronics at the GIK Institute of Technology. Dr Naqvi also has a number of patents to his credit and co-developed scatterometry as a metrology technique and process sensor for micro-electronic and opto-electronic fabrication.