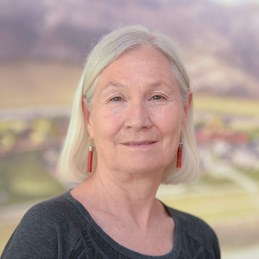 Robin Higgins is the University Counsellor on the Naryn campus. Higgins has been with UCA since 2016 and has been on the teams that launched both the Kyrgyz and Tajik campuses. She has been involved in designing and implementing the Counselling department, services, and programmes at UCA.
Higgins provides psychological support and promotes campus mental health and well-being for students and faculty. Over the last few years, she has also developed Summer Institute courses for UCA faculty and staff as well as AKDN partner agencies.  At UCA, she also developed a curriculum and taught courses on Emotional Intelligence and the Neuro-Science of Well-Being. She has presented and facilitated workshops at Student Affairs and Counselling conferences in Ottawa, Dundee, London, and Vancouver.
Robin comes from Nelson, Canada, and holds a Master of Arts in Counselling Psychology. Prior to joining UCA, Robin worked as a university counsellor in Canada and also as a provincial Child and Youth Mental Health Clinician.