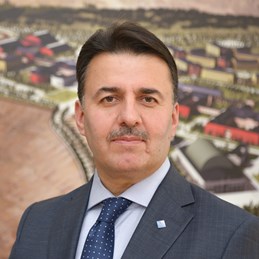 Dilovar Butabekov is Director of the School of Professional and Continuing Education. Previously he was the Deputy Director, with responsibility for the Tajikistan and Afghanistan programmes, and SPCE campus head of Khorog.
Butabekov has had a long career with the Aga Khan Development Network (AKDN), having started as a junior staff member in the AKDN office in Khorog, and then progressed to the position of Administration Manager for the Aga Khan Foundation (AKF), Tajikistan, and Director of Administration for AKF, Tajikistan.
He holds an Executive MBA (with merit) from the Bradford University School of Management, a Diploma in Economics from the School of Entrepreneurship, Ukraine, and a degree in Civil Aviation Engineering from the Kyiv Civil Aviation Engineering Institute.