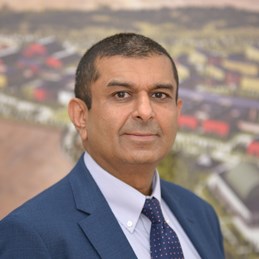 Saleem Hirani joined UCA as Chief Financial Officer in 2020. In February 2022 he took on additional responsibilities as Chief Information Officer. As a member of UCA's senior executive team, he is responsible for overseeing and managing all information technology and financial matters of the University and playing a key role in strategic planning, development, and operations of UCA's multi-campus university.
Hirani brings over 25 years of leadership experience in finance, accounting, controls, IT, project management, and financial systems in High-Tech, Financial Services, and Manufacturing industries across three countries: Pakistan, Canada, and the United States. He acquired transferable skills of entrepreneurship, innovation, strategy planning and execution, change management, and effective cost optimization while working at Ford, Dell, and Al-Faysal Investment Bank. 
He received his undergraduate degree from NED University (Karachi, Pakistan) in Computer Engineering, his MBA in Finance from the University of Michigan (Ann Arbor, USA), and acquired a CPA license. He has also earned a MicroMasters credential in Data, Economics, and Development Policy from MIT and is currently pursuing his Masters in Global Development Practice from Harvard University.


He is passionate about poverty alleviation and lifelong learning and brings his enthusiasm and mindset of passion, learning, contribution, and growth to UCA.