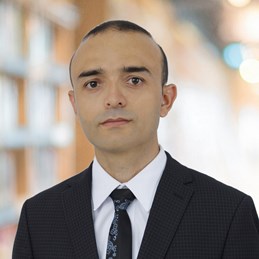 Dr Jovid Aminov is an Assistant Professor at the department of Earth and Environmental Sciences at UCA's School of Arts and Sciences. He studies tectonic evolution of the Pamir plateau during the Mesozoic and Cenozoic eras, focusing on the formation of the Pamir crust, its uplift and impacts on the regional climate. He investigates the relationship between mountain tectonics, magmatism, and climate using a range of geological research methods, including petrological, geochronological and paleomagnetic, to determine how plateau uplift can affect local and global climate over geological time spans. He is also interested in computer modelling and software development for research in the field of earth sciences. He has developed a software for paleogeographic reconstruction, which allows researchers to easily reconstruct the geography of the Earth for geological time spans.
Prior to joining the University of Central Asia, Dr Jovid Aminov served as a researcher and senior researcher at the Institute of Geology, Earthquake Engineering, and Seismology of the Tajik National Academy of Sciences (2011 - 2022).
Dr. Jovid Aminov received his PhD degree from the University of Chinese Academy of Sciences (CAS, 2018) and was awarded a distinguished postdoctoral fellowship entitled the President's International Fellowship Initiative (PIFI). As part of the fellowship, he worked as a postdoctoral researcher at the Institute of Tibetan Plateau Research of CAS (2019 - 2021). Additionally, he has conducted research as a visiting scholar at the University of Rennes (France, 2017), the Institute of Earth Environment, CAS (Xian, China, 2018) and  the University of Potsdam (Germany, 2018-2019).