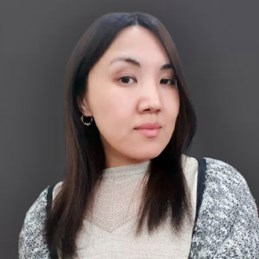 Aida Tostokova is a professional Graphic Designer, she graduated from the Kyrgyz State Technical University (KTU) with honors. She also studied at the Art School in Novosibirsk, Russia. She has exhibited her works in various art exhibitions.
Aida began working as a designer for the USAID project, while being a senior student at KTU. Early in her career, she took part in the Central Asia Women's Conference and showcased her first women's clothing collection. She participated in a competition from UNESCO and presented the design of an interior set with national elements.
Prior to joining UCA, Aida worked for various local and international organizations, such as the Turkish company "Megamedia", the Ipar Foundation, V.R.S. Company, etc.
Aida joined UCA as a Publication Officer at SPCE in 2013, and since 2022 she has been working as a Graphic and Publication Designer at the Cultural Heritage and Humanities Unit (CHHU) of UCA's Graduate School of Development. During this period at SPCE, she designed marketing and learning materials for all SPCE projects, designed more than 200 books, developed an SPCE reporting dashboard for 15 years, and created new SPCE social media accounts. However, Aida has been collaborating with CHHU since joining UCA, designing for projects and preparing publications and books.