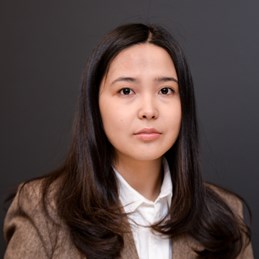 Aidana Ernestova is an Officer at the UCA's Graduate School of Development Civil Society Initiative. She coordinates local and regional CSI's projects such as the School for the Advancement of Gender Equality (SAGE) under the Government of Canada-funded Regional Programme, Foundations for Health and Empowerment (F4HE), and Advancing Gender Equality through Civil Society (AGECS). She was coordinating training programme on the use of open data to promote citizen engagement, projects on emergency responses to Covid. Before joining the UCA, she has been worked as a Project Assistant it the Eurasia Foundation in Central Asia. 
Her interests include gender issues, civil society, CSOs in Central Asia.
Aidana holds a BA degree in Economics from Kyrgyz State University.