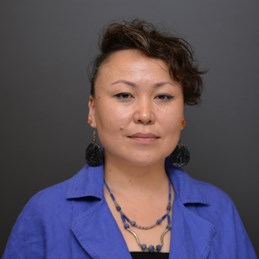 Altyn Kapalova is a research fellow at the Cultural Heritage and Humanities Unit (CHHU). She is a graduate of the Academy of Public Administration under the President of the Kyrgyz Republic. 
Altyn conducts anthropological research on gender issues and informal communications in Kyrgyz society. One of her recent studies is devoted to the role of women in small and medium enterprise development in Kyrgyzstan. Altyn's curatorial expertise covers visual arts, theatre, and creative writing. Currently, Altyn is doing research on cultural policy and the creative industry in Central Asia, and leads the CHHU Central Asian Museum Development Programme. The programme is directed at creating new decolonial narratives in museums and engaging the local community in museum activities. 
Altyn also has been creating experimental art products, combining science, art, and politics. Altyn converts the results of her anthropological research into art works providing voice to vulnerable communities and involving them in decision-making. 
As a fellow of the Central Asia and Caucasus Research and Training Initiative in 2012, Altyn interned at the Department of Anthropology at Texas A & M University, USA.