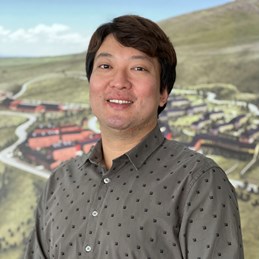 Azat Orozbaev is the Senior Manager of Student Affairs of UCA's School of Arts and Sciences with more than 9 years of experience in secondary and higher education. As the Senior Manager, Azat oversees and coordinates the Student Life Team's operations and activities both at Naryn and Khorog Campuses.  
Azat previously worked as the Senior Assistant Registrar at UCA's Bishkek Central Administration Office. In this position Azat was responsible for student admissions and enrolment, managing academic records, course registration and scheduling, and quality assurance. He also served as the secretary to the Academic Council.
Azat holds a bachelor's degree in International and Comparative Politics from the American University of Central Asia. He is also a Future Leaders Exchange (FLEX) Program Alumnus.
In keeping with the ethos of the School, Azat and the Student Life Team are dedicated to providing learning-focused, professional support and services to students on Campuses, ensuring their interests, voices and needs are heard and adequately reflected in the School's decisions and activities.