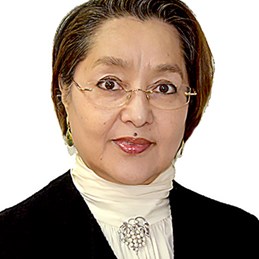 Email
nurzhauar.issaeva@ucentralasia.org
Phone
For more detailed profile:
Sedona
Nurzhauar is a Candidate of Biology and a Professor of Economics, with 37 years of experience in research and education. She is the author of 47 research publications on education development, and has worked for various government institutions in Kazakhstan over the years: the National Academy of Sciences, the Ministry of Education, the Ministry of Economics, and the country's parliament.
Between 1997 and 2009, she headed various higher education institutions in Almaty (the Kazakh-American University, the Academy of Banking, and the Almaty Academy of Economics and Statistics), and has studied the experience of higher education institutions in the USA. She has delivered undergraduate lectures on marketing, and postgraduate lectures on teaching techniques for economic disciplines, as well as seminars for higher education institution administrators and faculty on the specific features of the implementation of credit-based programmes, organising students' independent work, and personal development.
Nurzhauar has developed the following government grant projects: 'Social partnership: School - College - HEI' and 'Expanding information support for learning and teaching resources at higher education institutions in Kazakhstan: creating an international electronic library resource', from the Fund of the First President of Kazakhstan, and 'Improving the information security competencies of civil servants'.
Since 2012, she has initiated AKHP/UCA memoranda with 35 educational institutions, and spoken on education development at international conferences. In 2013, she instigated the establishment of the Public Association for Innovative Practices (PAIP) to assist with AKHP's Faculty Development Programme. She initiated the social projects 'Sociocultural adaptation of young people through innovative discourse as a component of the development of intellectual society in Kazakhstan' (2017), 'Implementation of a range of measures to support the institutional development of non-governmental organisations' (2015), and 'Improving financial literacy for disabled people' (2014), which benefited from government grants and used AKHP materials.
Nurzhauar plays an active role in the AKHP/UCA project team developing and introducing into the curriculum the Master's course 'The Central Asian worldview: Past and present', and AKHP's 'Interactive ethnographic map of Central Asia' and Cross-Debate Format for young people.