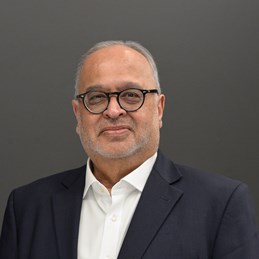 Dr Salim Sumar is the Director of Academic Development and the International Office at UCA. He provides overall leadership working with renowned national, regional, and international institutions in developing academic excellence. In addition, Dr Sumar heads UCA's flagship Central Asian Faculty Development Programme (CAFDP), for graduate and postdoctoral studies at some of the finest partner universities globally.
Dr Sumar has worked in various senior and leadership positions in academia and international development across the United Kingdom, Europe, Africa, Central Asia, and the Middle East. Educated in the United Kingdom, he has spent well over four decades in academia in the field of Food, Nutrition, and Public Health. Over this period, he has held various senior academic appointments including full Professor, Chair, Director of Postgraduate Studies, Research Centre Director, and finally Head of School in the UK.
He has supervised a large number of PhD and postdoctoral studies globally, presented and published extensively, as well as served on editorial boards of various international academic journals.
Dr Sumar has established new teaching and research institutions globally, validated courses, and conducted quality audits in teaching and research, all of which remains a passion at UCA.
Dr Sumar previous field and research experience includes working on various aspects of global emergency response (forecasting community health, nutrition, food security, water, sanitation, refugees, migration), with governments, UN agencies, and AKDN- FOCUS, serving as its Global Coordinator.