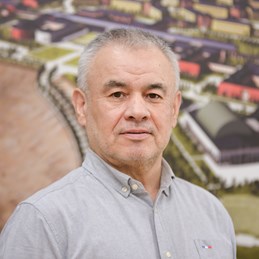 Myrza Karimov heads the School of Arts and Sciences' cooperative education programme. He has more than 25 years of experience working in education. Karimov spent over 13 years as Vice-Rector, Dean, Deputy Director, and Assistant Professor with the Arabaev Kyrgyz State University and Jusup Balasagyn Kyrgyz National University.
Karimov has successfully established cultural and education links and raised funds from the European Union, the United States, Thailand, and South Korea. Prior to joining UCA, he worked as Programme Director of Counterpart International's Support to the Electoral Process Project (STEP) funded by the USAID Mission in Kabul, Afghanistan. He led initiatives to support the legal reform of the Kyrgyz educational system and civil society, promoting electoral and political processes, decentralisation, and improving local governance. He was also a lead member of the Education Working Group tasked with drafting new Education Law for Kyrgyzstan.
He holds a Master's degree from the University of Minnesota in Education Policy and Administration with a concentration on Comparative International Development Education.