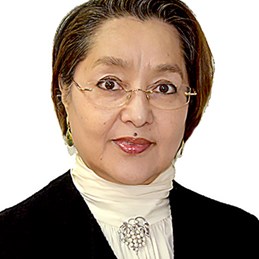 Email
nurzhauar.issaeva@ucentralasia.org
Phone
Nurzhauar Issayeva is a candidate in biological sciences and a professor of economics with 42 years of experience in the scientific and pedagogical activity. She is the author of 47 scientific publications on the development of education, has worked for many years in various state institutions of Kazakhstan, such as The National Academy of Sciences of the Republic of Kazakhstan, the Ministry of Education, the Ministry of Economy, and the "Mazhilis" of the Parliament of the Republic of Kazakhstan.
From 1997 to 2009, she headed various higher educational institutions in Almaty, such as Rector and Vice-Rector at Kazakh American University, Academy of Banking, and Almaty Academy of Economics and Statistics. During these assignments, she attended study tours and experience sharing at Eastern Connecticut State University, USA.  In addition, she has delivered undergraduate lectures on marketing and postgraduate courses on the methodology of teaching economics at several institutions, organised seminars for managers and faculties of higher education institutions on the of implementing credit-based technology to the curriculum, managing students' independent work, and soft skills development.
Nurzhauar has developed and managed the implementation of government grant projects at universities.
In May 2012, she joined the University of Central Asia. Since then, she has initiated AKHP-UCA memorandum with 38 educational institutions in KZ and Kokand State Pedagogical Institute Uzbekistan and spoken on academic development at international conferences of partners. In 2013, she initiated the establishment of the NGO Public Association for Innovative Practices (PAIP) to assist with AKHP's FDP. In addition, she initiated and coordinated the implementation of the social gran for PAIP, which used AKHP materials.
Nurzhauar takes an active part in the AKHP-UCA project team, developing and implementing the AKHP course "Picture of Central Asia: Past and Present", "The AKHP Interactive Ethnographic Map of Central Asia", and the Cross-Debate Format (CDF) of AKHP into the master's and bachelor's curriculums, coordinating the development of the Digital Platform AKHP, organising translation AKHP's anthologies into Kazakh and design layout of them on all national languages, in closed cooperation with AKHP partners in Kazakhstan.