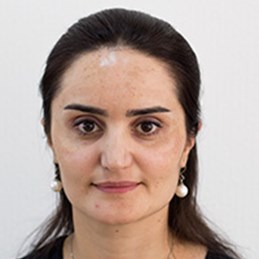 Ramila Mukairshoeva is UCA's Library Coordinator. Prior to joining UCA, she worked for the Centre for Development and Environment, Pamir Strategy Project in Dushanbe, Tajikistan as an Administrative Assistant.
Mukairshoeva has a significant experience working with UCA in various key administrative and academic roles. She worked for the Aga Khan Humanities Project (AKHP) as an Assistant and Interpreter for the Schools Project and as a Resource Centre Coordinator. 
She also interned at the prestigious School of Library and Information Science, Indiana University in Bloomington, the United States. Mukairshoeva holds a degree in English Philology from Khorog State University, Department of Foreign Languages in Khorog, Tajikistan.