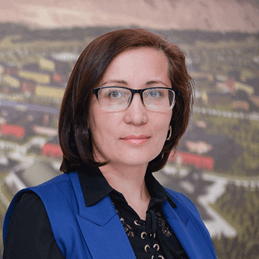 Samarat Mambetazhieva has been the Manager of Academic Affairs at the University of Central Asia's School of Professional and Continuing Education since 2016. She has over 19 years of experience in academic leadership, management, and teaching and has held various positions. In 2017, she worked as the Assistant Director at the UCA Summer Upgrading Camp.
Prior to joining UCA, she worked as an English teacher at Naryn State University and held the position of Deputy Dean for Academic Affairs. In 2008, she joined UCA's School of Professional and Continuing Education (SPCE), where she taught the English language for eight years. At SPCE, she completed a series of continuing education training that have enabled her to teach a variety of certification programs: Conversational English, Business English, and English for Specific Purposes.
She has also developed curricula for various programmes, taught the Teaching Knowledge Test programme, and conducted continuing education training for English teachers from all regions of Kyrgyzstan. Mambetazhieva is also a certified examiner of Cambridge English proficiency exams (KET, PET, FCE). She received a certificate in the Teaching Knowledge Test program from the University of Cambridge.