 UCA Joins United Nations Academic Impact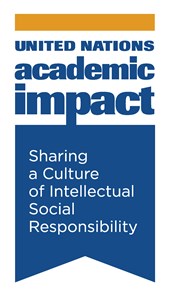 UCA is now a member of the United Nations Academic Impact (UNAI), working to promote global priorities, including peace, human rights, and sustainable development. UCA is joining over 1,300 institutions in 145 countries, such as the University of New South Wales (Australia), SOAS University of London (UK), HEC Montreal (Canada), Berkeley College (USA), University of Hamburg (Germany), and KIMEP University (Kazakhstan).
As a member of the UN Academic Impact, UCA will now be able to facilitate discussions, issue direct calls for collaboration, or solicit feedback from the Academic Impact network on any UNAI-related project. UCA has joined UNAI as part of the mission of the International Office to create and build opportunities for international collaboration.
UNAI works to support and advance ten basic principles including addressing poverty, capacity building, education for all, encouraging global citizenship, access to higher education, human rights, intercultural dialogue, resolution, sustainability and the UN charter. UNAI is aided in its work to advance these principles through its UNAI member institutions, which each focus on a particular principle in cooperation with other members.