 UCA Supports First National Museum Forum in Kyrgyzstan
To strengthen the role of museums as independent social and cultural institutions, the Cultural Heritage and Humanities Unit (CHHU) of the University of Central Asia (UCA) supported the first National Museum Forum "Sustainable Museum: Driver of Regional Development" held in Kyrgyzstan. The forum organised in the Issyk-Kul region from 8-11 September 2021 was attended by more than 50 museum specialists from all around the country along with several other international participants who connected online.
"State museums in Kyrgyzstan are the main repositories of the country's rich cultural and historical heritage. Unfortunately, the government has been struggling to provide the needed financial support to develop them. Therefore, museums are looking for innovative ways to expand their audiences and attract diverse visitors using the available small budget they have. They want to learn new multimedia approaches, tools and technologies to present their old historical objects, artefacts and stories to diverse audiences in physical and virtual formats," said Dr Elmira Kuchumkulova, Head of CHHU.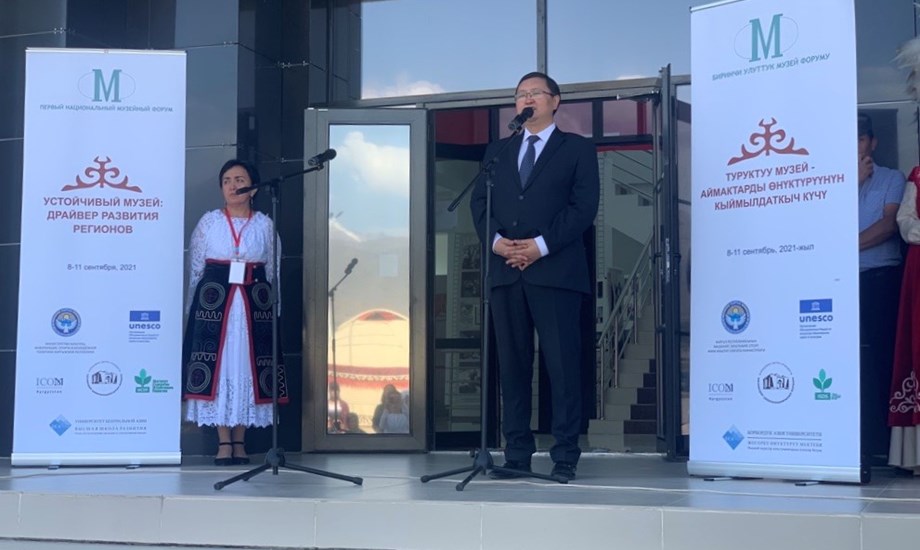 Kyrgyzstan has 58 registered state museums and almost 100 museums of various public and private profiles, and the goal of this forum was to unite individual efforts towards the preservation and development of museums in the country. One of the major agendas of the Forum was to initiate the development of a sustainable model that can contribute to the consolidation of museums and the implementation of strategic initiatives involving local communities and simultaneously improving their quality of life.
"UCA supported the first National Museum Forum since a museum is more than just a custodian of cultural and historical values. Museums in the contemporary era are changing, by providing a platform to promote education, science and creativity among all age groups," said Altyn Kapalova, CHHU Research Fellow. 
Several organisations came together to materialize the vision of using museums as one of the driving forces for regional development. These included the University of Central Asia, Ministry of Culture, Information, Sports and Youth Policy of the Kyrgyz Republic, National Commission for UNESCO in the Kyrgyz Republic, Institute for Sustainable Development Strategy, National Committee of International Council of Museums in Kyrgyzstan, Association "Consortium of Museums of the Kyrgyz Republic" and Center of Nomadic Civilization.
During the Forum, CHHU also hosted a session on "Museums Along the Silk Road" during which partners from Pakistan, Tajikistan and Kyrgyzstan had a panel discussion on community-based museums and the culture of museums in mountain communities.
"National Museum Forum is of utmost importance as it makes possible those connections and dialogues that help us to think collaboratively about our identity, diversity, and unique practices that keep our cultures alive," said Dr Zahra Hussain, Member of the Silk Route Network Project which is being implemented by UCA's CHHU.