 Groundbreaking Research at UCA Addresses Food Security in Central Asia
The University of Central Asia (UCA) has been at the forefront of research addressing food security in the high mountains of Central Asia. Through its Mountain Societies Research Institute (MSRI), UCA has made significant contributions to understanding the complex challenges faced by mountain communities and developing sustainable solutions.
A recent article published by MSRI in the prestigious BioScience journal has garnered significant recognition. Titled "Food Security in High Mountains of Central Asia: A Broader Perspective," this article has been designated as an Editor's Choice, highlighting its exceptional contribution to the field of food security. The article sheds light on the multidimensional nature of food security in these mountainous regions, emphasizing the impact of climate patterns, environmental attributes, and socioeconomic factors on water supplies, biodiversity, droughts, and other hazards that affect food production and access.
Professor Roy Sidle, Director of MSRI and a renowned expert in Earth and Environmental Sciences, spearheaded this research. Instead of narrowly focusing on production and distribution, the MSRI adopts an integrated approach that considers both natural and anthropogenic stressors, feedback loops, and mitigation strategies.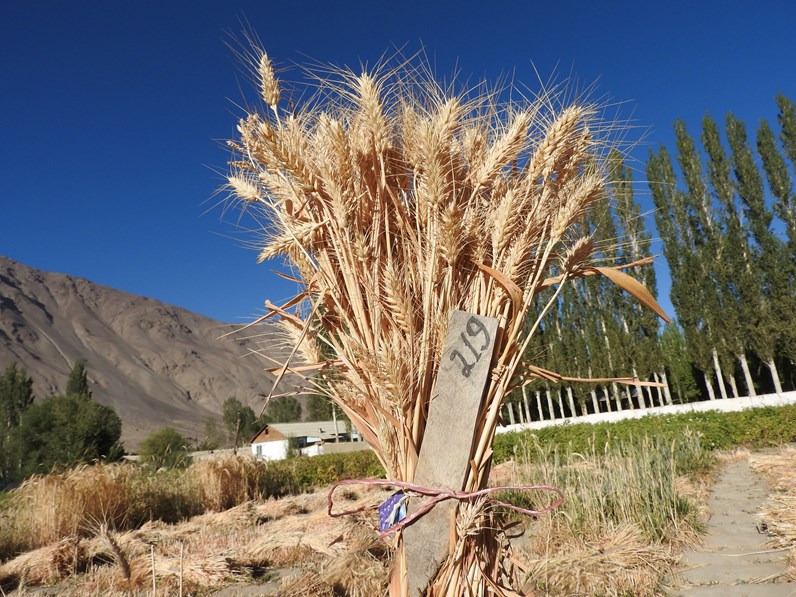 Experimental plot with wheat varieties created by MSRI in Tajikistan
To further delve into this important topic, Professor Sidle also participated in an engaging episode of the BioScience Talks podcast. In this interview, he expands upon the challenges faced by mountain communities in Central Asia and discusses the broader implications of his research: "Isolated mountain villages face a myriad of challenges, including poverty, subsistence living, conflict, and marginal lands, rendering their residents highly vulnerable to malnutrition, stunting, and limited food access. The infertile soils, devoid of organic matter, further exacerbate the situation. Overgrazing of high-elevation pastures and the often overlooked impact of natural hazards compound the already fragile state of food security."
MSRI's research and Professor Sidle's expertise have not only contributed to the academic understanding of food security but also have practical implications for the lives of people in mountain communities. By working closely with local stakeholders, MSRI aims to develop innovative solutions that enhance food security, promote sustainable land management practices, and empower mountain communities to achieve self-sufficiency. Listen to the full episode.