 UCA Contributes to UN 2023 Water Conference in New York
The University of Central Asia (UCA) participated in the UN 2023 Water Conference in New York to address the increasing pressure on access to clean water, energy, food production, and ecosystems caused by various global processes such as climate change, rising global population, rapid urban and economic development, and changing diets. By 2050, water and electricity demand is expected to rise by more than 50%, and irrigated land must increase by 60% to fulfill future food security needs.
UCA, along with other Aga Khan Development Network agencies, co-hosted a side event entitled "Adopting the Water-Energy-Food-Environment (WEFE) Nexus for a water-wise energy transition" with various organizations such as the Tajikistan Ministry of Energy and Water Resources, International Hydropower Association, ITAIPU Binacional, Executive Committee for the International Fund for Saving the Aral Sea, USAID GIZ, Aga Khan Foundation, and Aga Khan Fund for Economic Development.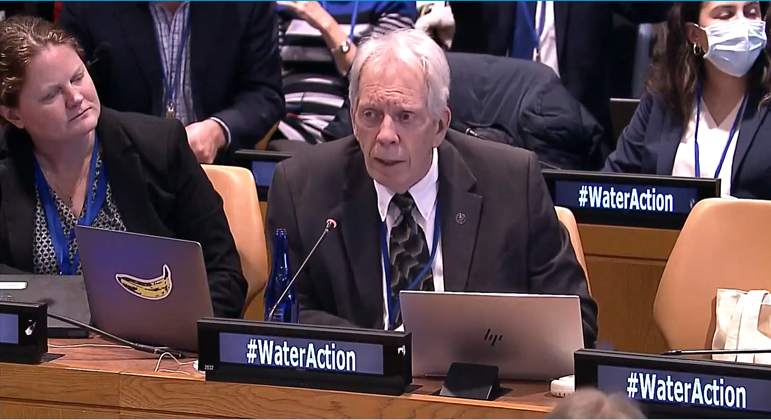 Prof. Sidle of UCA addressing the event participants.
The event hosted at the UN's Headquarters included presentations on the WEFE Nexus policy approach and demonstrated benefits of sustainable hydropower investments, as well as a Q&A session on developing joint, climate-resilient investments in water, energy, agriculture and the environment.
At the event, Prof. Roy Sidle, Director of UCA's Mountain Societies Research Institute, spoke about the processes affecting water resources and communities in mountainous regions in Central Asia. His research is helping shed light on how mountain societies can contribute to more sustainable use of water for food security, energy, and agriculture.
"There is a lot of storage of water in the High Pamir which we call the Water Towers. The key consideration to water supply is how this water is released. Understanding the spatial patterns and temporal changes in climate are vitally important in the region for food security, pasture management, hydropower production, reversing land degradation and even occurrence of natural hazards," - said Prof. Sidle addressing the participants of the conference.
Watch the full video of the event: https://media.un.org/en/asset/k1b/k1b4hsj1zi