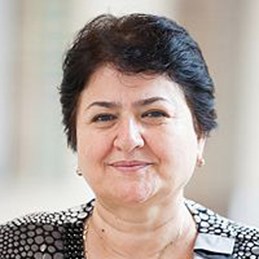 Dr Sharofat Mamadambarova has been affiliated with the Aga Khan Humanities Project (AKHP) at the University of Central Asia since 1998, in curriculum development and assessment, and as a Master Trainer at Khorog State University (KSU). Her career with KSU began in 1992, where she served as Head of the Department of Foreign Languages, Dean of Humanities, and finally as Vice-Rector of International Relationships.
Prior to joining KSU, Dr Mamadambarova spent 16 years with the Foreign Languages Faculty at the Dushanbe Pedagogical University. She joined as an Assistant Professor of English in 1976, and moved to key university administrative leadership roles, first as the Vice Dean of the Foreign Languages Faculty and subsequently as Head of the Department.
Dr Mamadambarova has consulted with the Christensen Fund on various research projects and has participated in numerous exchanges and training on pedagogy and assessment in the USA.
She received her PhD from the Institute of Oriental Studies in Moscow in 1990.
Dr Mamadambarova is currently on sabbatical from UCA.