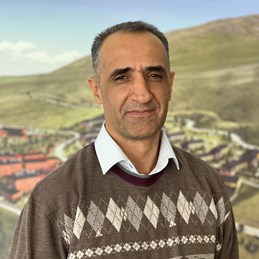 Dr Amrisho Lashkariev received his BA degree as a teacher of English and German languages from Khorog State University. Afterwards he pursued his studies at the Institute of Ethnology and Anthropology of the Russian Academy of Science where he obtained his degree as a Candidate of the Historical Sciences. In 2009 he was awarded the CAFDP scholarship to study PhD in Social Anthropology at the University of Tubingen. He has completed his PhD successfully with a thesis which explores construction of boundary, ethnicity and identity through ritual performance among an indigenous community in Tajikistan. During his PhD he taught courses on social anthropology for undergraduate and graduate students.
After completion of his PhD, he was invited to teach social study at the Institute for Education Development of the Aga Khan University of Karachi, Pakistan. Dr Lashkariev has more than 9 years of experience on teacher development, assessment, curriculum development, and educational research in the areas of secondary, TVET and higher education in Tajikistan. He has been worked in various development and research-based organizations as a researcher, project officer, coordinator and manager, including the coordinator of the EU funded project to introduce competency-based education in Tajikistan. Most recently he worked as a researcher with Nazarbayev University to conduct research within the program framework of "School2030".
Prior to joining the UCA Dr. Lashkariev worked as a national coordinator of UNESCO projects to support the Ministry of Education and Science of the Republic of Tajikistan to improve curriculum and integrate ICT in the process of teaching and learning. He is the author of the number of articles on custom and rites among the indigenous population of Tajikistan, and a book monograph on social boundary, ethnicity and identity.