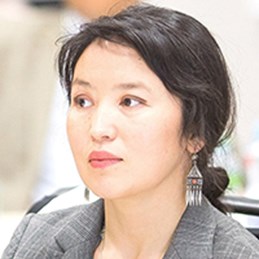 Meerim Bayalieva is the Manager of Academic Operations of UCA's School of Arts and Sciences. She has over 15 years of experience working in local economic development, vocational training and higher education, human resources management, civil service, and local self-governance, administration, and project management spheres providing technical and implementation input for development programs in Kyrgyzstan and the United Kingdom.
Prior to joining UCA, she coordinated a multi-country United Nations International Labor Organisation Project on Skills Development and Economic Diversification. She was responsible for co-designing and coordinating the implementation of interventions that strengthened cooperation between Business and Vocational Education and Training systems in order to respond to market challenges and anticipate opportunities. Previous assignments included work in various development projects implemented by the United States Agency for International Development on Local Economic Development, the European Union on Civil Service Reform, and the Japan International Cooperation Agency on Japanese Human Development Scholarships. Ms.
Bayalieva has also taught HRM/D to graduate students at the American University of Central Asia in 2010-2012 and the History of State and Law at the undergraduate level at Kyrgyz-Russian Slavonic University in 2001. Ms. Bayalieva holds an MBA degree from Staffordshire University (UK) and a Bachelor of Arts degree in Civil Law from Kyrgyz-Russian Slavic University (Kyrgyzstan).