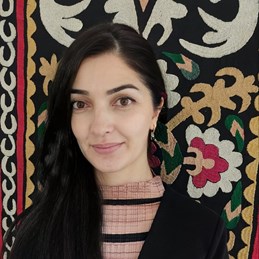 Nozukmo Rustambekova is a Lecturer in English for Academic Purposes at UCA's Undergraduate Preparatory Programme in the Khorog, Tajikistan campus. Rustambekova brings 22 years of teaching experience to UCA. Prior to joining UCA she worked as an English Language teacher and a Professional Development Coordinator at the Aga Khan School in Osh, Kyrgyzstan and Aga Khan Lycee Khorog, Tajikistan.
Rustambekova joined UCA's School of Professional and Continuing Education (SPCE) in 2009 as an English Language Instructor. At SPCE she taught Conversational English, English for Academic Purposes TOEFl, Critical Thinking, Subject Specific Reading and Developing Reflective Practice. In 2020 she was the coordinator and the main tutor for English for Academic Purposes for the Institute of Ismaili Studies Accelerate Post Graduate Preparatory Programme.
She holds her Master in Education with the specialization in English Language and Social Studies from the Aga Khan University -Institute for Educational Development (AKU-IED) Karachi, Pakistan and a Bachelor of Arts in Linguistics from Khorog State University.