 Bell Ringing Ceremony Welcomes Class of 2026
A symbolic bell ringing ceremony officially started classes for the new cohort of students – the Class of 2026. The ceremony took place simultaneously at the Khorog, Tajikistan and Naryn, Kyrgyzstan, campuses on September 20, 2021.
Welcoming the students, Dr Shamsh Kassim-Lakha, Chairman of UCA's Board of Trustees said: "UCA achieved a major milestone last year with the graduation of its first cohort…these graduates have set a fine example for all future classes. Like all universities, UCA focuses on teaching, research and service, however, the vision of the Chancellor and Founding Presidents is for UCA to excel as a research university."
Congratulating the students, Yodgor Fayzov, Governor of Gorno Badakhshan, Tajikistan, said: "The key question is to improve the quality of education…and the qualification to compete in the labor market within the country and internationally, and UCA as our partner has been doing just that. During the inauguration ceremony of UCA, His Excellency President Emomali Rahmon mentioned: "I hope this University will open doors for our children to international standards of education," and I am glad that it is already happening."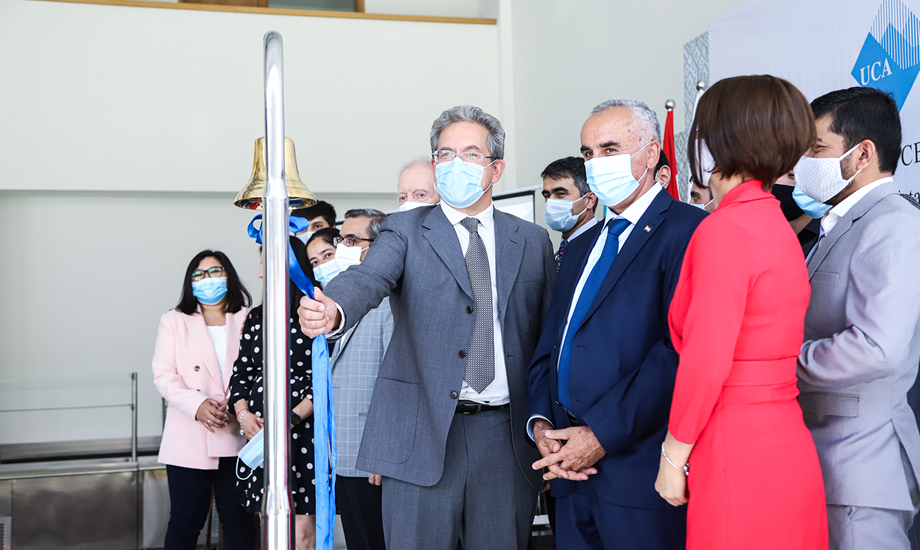 Every year, undergraduate students admitted to SAS sign the legacy book with their names and the date to mark the historic moment of the beginning of their journeys at UCA. They also write a letter to their future self, which will be opened during their graduation week five years from now.
"You have exciting traditions at the University of Central Asia. The most interesting is when new students write their expectations and seal it for the next five years," said Sabyrkyl Ashimbaev, Governor of the Naryn Oblast.
During the ceremony, 92 students from both campuses also received the Dean's Honor List Awards for academic excellence during the 2020-2021 term.
Watch the full ceremony here.