 Employee Spotlight | Starting from Square One: Hofiz's Journey at UCA
"When I graduated from High School, we did not have many options in terms of choosing a field of study. Times were very difficult, and we just went with the flow of life," said Hofiz Mirzonabotov, one of the very first employees to join the University of Central Asia in 2001.
Hofiz always wanted to be in the construction business, "It feels good to see what you have created. When you come across a building that you helped build, you can proudly say that you were part of the project."
When the Working Group Commission arrived in Khorog for establishing UCA, Hofiz said, "People started talking about a great development project envisioned by His Highness the Aga Khan. Though I was already involved in a United Nations project, I really wanted to be part of the construction of this unique University."
Hofiz was offered a job as an Administrative Manager at UCA, where he worked for five years before joining the Construction and Facilities Division as Site Manager. "I am proud to say I have been associated with UCA since its inception. Initially I was involved in the launch of its first course for Continuing Education till today when we have both campuses up and running."
During Khorog Campus construction, Hofiz managed this project costing US$63.6 million. Responding to a question about what has been the most challenging task during this time, Hofiz said: "If I would have to choose between the complexity of Campus construction in a remote region, or relocation of houses that were on the Campus site, I would say relocation was one of the most difficult challenges of my career. Although UCA followed all World Bank regulations during relocation in terms of providing fair compensation and logistical support, it was not an easy process."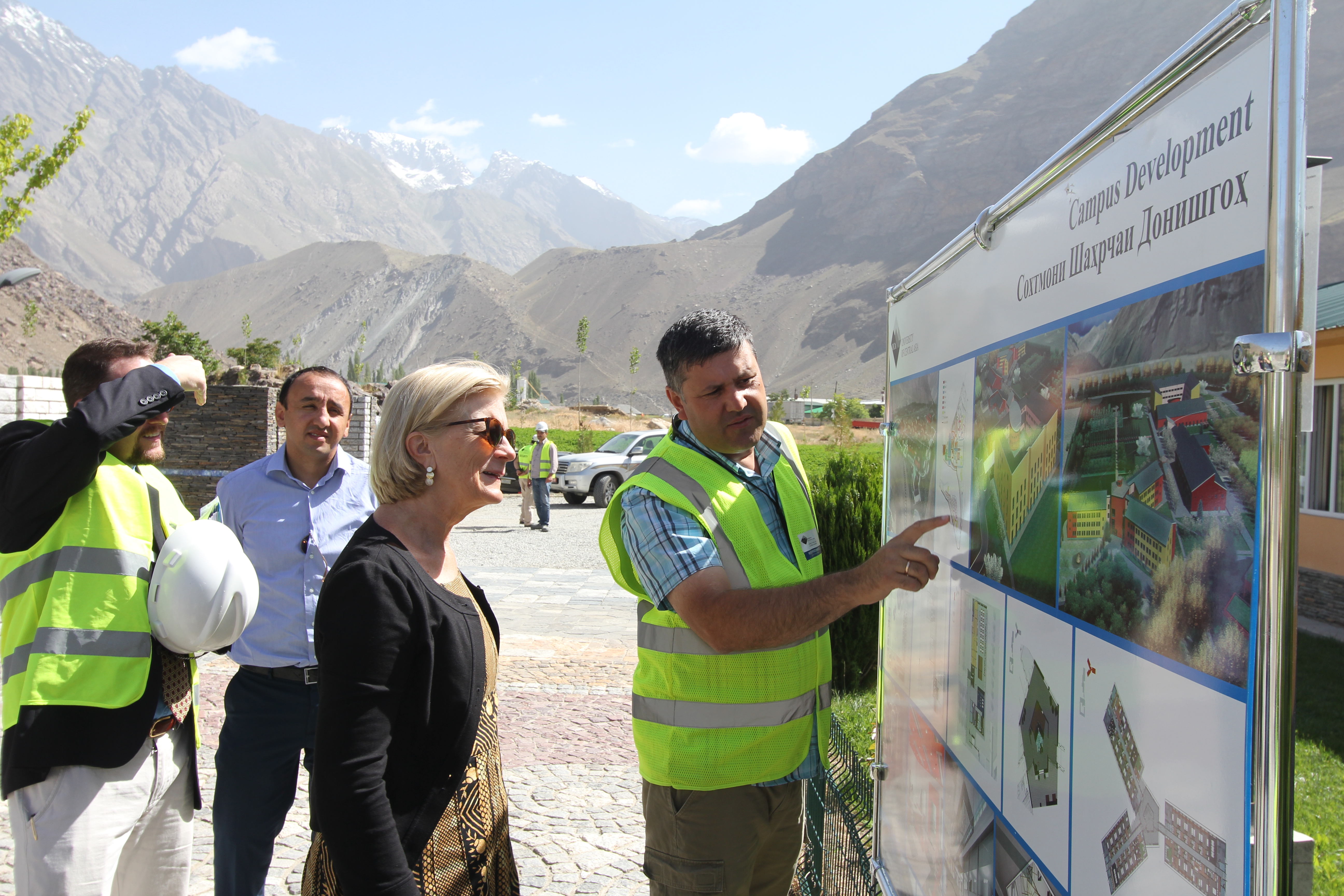 Hofiz recalls, "His Highness the Aga Khan was not in favor of cutting the trees on the site, so during relocation and construction, none of the trees were felled. Relocated families were additionally compensated for keeping their trees on site, and they are still welcomed on the Campus to pick the fruits from their trees."
Apart from the relocation process, as Project Manager, Hofiz was significantly involved in supporting local economic fallout by providing tenders to local vendors for construction. Following the vision of His Highness the Aga Khan, Hofiz said, "The Chancellor wished that not only should the community benefit from the programmes of the University, but that the inhabitants should also profit economically during the construction process. Thus, 85% of the construction jobs were awarded to local residents and 50% of the sub-contractors were local vendors."
While managing Phase One of UCA's construction, Hofiz was also overseeing the construction of the Ismaili Jamatkhana and Ismaili Centre in Khorog, and three Early Childhood Development centres, along with the renovation of the Aga Khan Lyceum School.
For the past two years Hofiz has been based at the Central Administration Office in Bishkek as the Director of the Construction and Facilities Division of UCA. "Sometimes I just open construction site files and photos, and scroll through it because I really miss being in the field."
When asked, if after 21 years of work experience at UCA, does he want to continue the journey, "There were times, after Phase I, when I thought about moving on to another major construction company, but since UCA has done only 15% of the construction of the master plan of the University, there is still much to be done. My heart belongs to UCA, and I want to be part of at least one more phase of construction. Every time I drive by Khorog Campus, my eyes shine with humble pride that I was part of such a magnificent project."
As part of UCA's professional development initiatives, Hofiz also pursued his Masters from the University of Bradford (UK) in Project Management and Policy Development.