 UCA and University of Oxford: Examining Post-Pandemic Societies of Kyrgyzstan and Mongolia
The University of Central Asia's (UCA) Institute of Public Policy and Administration (IPPA), which is part of Graduate School of Development has partnered with the University of Oxford and several Japanese universities to understand the socio-economic and geographic dimensions of Covid-19 responses in Kyrgyzstan and Mongolia.  
Covid-19 has significantly impacted the development progress in Kyrgyzstan and Mongolia. Yet the pandemic also has created new opportunities to innovate, evaluate and redirect policy and practice across rural communities and customary livelihoods. This has encouraged the IPPA researchers jointly with colleagues from Mongolia, Japan and the UK to conduct original field research to clarify how households in Kyrgyzstan and Mongolia have navigated the pandemic.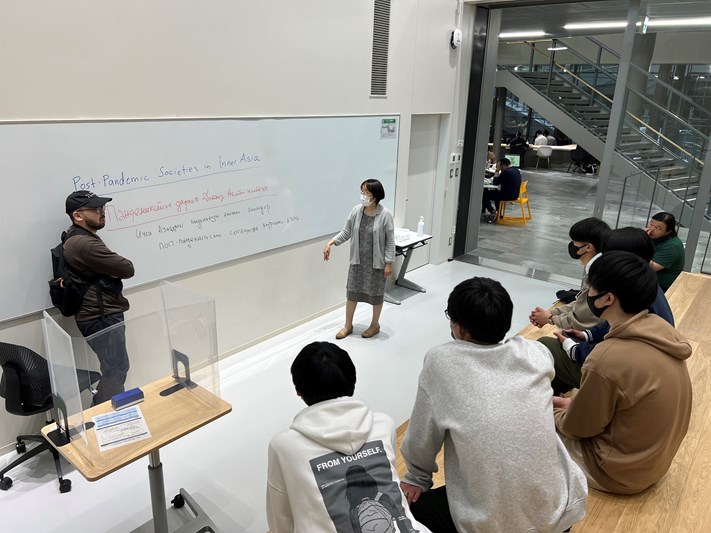 At Meiji University, Japan. UCA researchers collaborate with Professor Ozaki at Kagoshima University in Japan and a larger group of partners including Prof Yuki Morinaga (Meiji University), Prof Buho Hoshino (Rakuno Gakuen University), Prof Kaoru Imamura (Nagoya Gakuin University).
"Our new endeavour is both about advancing civic engagement and inclusive recovery through an evidence-based and collaborative approach and about empowering researchers at every stage of their career through a comprehensive capacity building and skills development programme," – underlined Dr Kemel Toktomushev, a Co-Principal Investigator of the project and a Senior Research Fellow of IPPA. 
The UCA along with UK and Japanese research teams have extensive experience working in the region featuring a nuanced understanding of the local contexts.
Commenting on this new project, Professor Christopher Gerry, Dean of UCA's Graduate School of Development stated, "This partnership represents an outstanding opportunity to combine local and international expertise to mentor and nurture a new generation of Central Asian scholars, while also helping shed light on how Kyrgyz and Mongolian households have navigated their way through the pandemic and its aftermath."
For more information, please contact ippa@ucentralasia.org