 University of Central Asia and UNICEF Partner for a Girls' Hackathon
The University of Central Asia's School of Arts and Sciences (UCA-SAS) and the United Nations Children's Fund (UNICEF) organized the EcoKyzdar (EcoGirls) Hackathon on "Climate Change and Environmental Sustainability" at UCA Campus in Naryn on 15-16 April 2023. The Hackathon welcomed 49 girls from diverse backgrounds across Kyrgyzstan including students from UCA and other universities and secondary schools. Most of them are participating in UNICEF's "Girls in Science" programme.
Nestled amidst the splendid Tenir Too mountains, a group of young women aged 17-21 gathered for this Hackathon to deepen their understanding of climate change, build new friendships, and collaborate on addressing various environmental issues.
At the end of the hackathon, contestants presented innovative ideas to a panel of expert judges, including Samarat Mambetajieva, Manager of Academic Affairs of UCA's School of Professional and Continuing Education, Naryn, Jyldyz Isabekova, Country Director of Accelerate Prosperity, Kyrgyzstan, Nuriia Karakulova, Adolescents & Youth Development Officer at UNICEF, Kyrgyzstan, and Dr Ian Phil Canlas, Senior Lecturer of Science at UCA-SAS and Scholar of the Department of Science and Technology in the Philippines.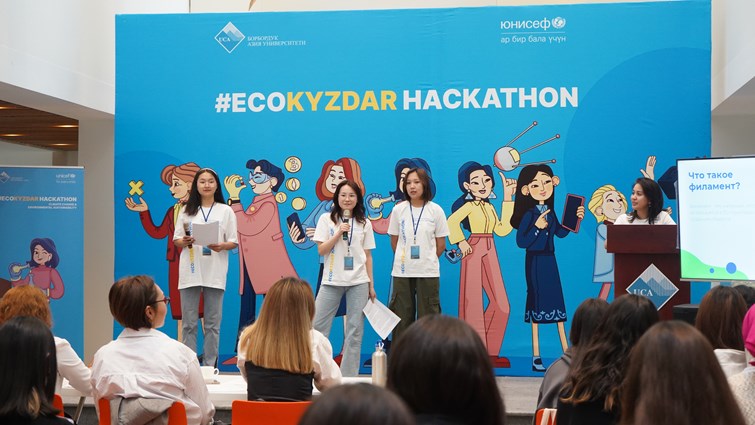 A team of young girls pitching their recycling project "Converting Plastic Bottles into Filament" to a panel of experts. L to R: Mamasadyk kyzy Anjelika, Sheralieva Elvira and Chotonova Bermet.
The groups came up with innovative ideas to address environmental challenges. Ideas included: a) the development of a robot arm to separate recyclable trash from other waste, b) adding QR codes to fabric bags used at grocery stores for their loyalty programmes, c) producing sustainable book covers and d) teaching young girls how to make traditional Kyrgyz handicrafts and then helping them launch tourism-related startups.
"At UCA, we recognize that achieving gender equality requires more than providing 'equal' opportunities. By creating a programme that is exclusively for young women, we aim to address the gender-based inequities that exist in STEM fields and provide a more level playing field for our young women to succeed. This effort is part of the broader vision of the UCA Chancellor, His Highness the Aga Khan, who emphasises the importance of pluralism and civil society in promoting peace and development. We believe that by embracing both equality and equity, we can contribute to building a more inclusive and pluralistic society that aligns with our Chancellor's vision," said Kiran Bhimani, Faculty at UCA's School of Arts and Sciences and co-Organizer of ECOKyzdar Hackathon.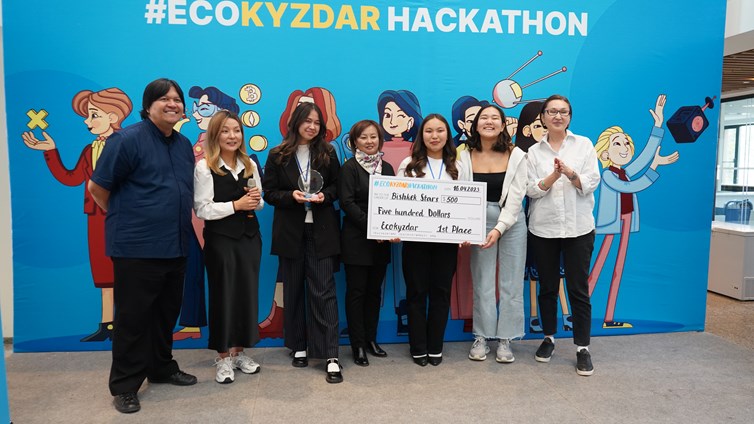 The winning team receives $500 US cash prize for the project "Parabolic Thermal Power Plant to Generate Electricity". L to R: Dr Ian Canlas, Nuriia Karakulova, Zheenbekova Marzhan, Elnura Asangazy Kyzy, Hanlosan Sofia, Kanybekova Salamat and Jyldyz Isabekova.
The Hackathon concluded with Elnura Asangazy Kyzy, Vice Mayor of Naryn, awarding the competition winners with monetary prize ($500 for 1st place, $300 for 2nd place, and $200 for 3rd place) sponsored by UCA. To further develop the ideas that came up during ECOKyzdar Hackathon, the team that stood first has been invited to participate in the Accelerate Prosperity Incubation Programme, run by the Aga Khan Development Network. Accelerate Prosperity offers the team an opportunity to win $10,000 to invest in their startup.
"For many children and young people, climate change is the most pressing issue. We have seen also how young people are currently taking the lead throughout the world in campaigning for climate action. Since girls and young women are disproportionately affected by climate change, we need to ensure that they participate in this movement and can develop innovative green initiatives. If we give them the right opportunities and can provide a positive learning environment, as we did during this hackathon, our young Kyrgyzstani leaders can make a difference  and contribute to the collective climate change response," said Christine Jaulmes, UNICEF Representative in Kyrgyzstan.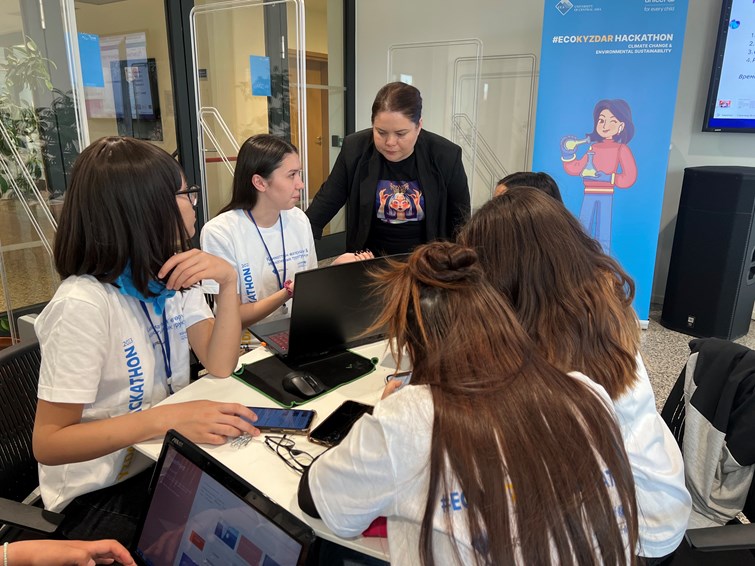 Elena Chigibaeva (3rd from left), CEO of Weincrypto, consulting the teams on Pitch Deck Development & Public Speaking.
In addition to their participation in the competition, the young women also attended sessions on Design Thinking, Public Speaking, Women in Leadership, Financial Literacy and Fundraising. These workshops were conducted by notable leaders who are distinguished in their respective fields such as Elena Chigibaeva, CEO of WeInCrypto; Aizat Ruslanova, Executive Director of IDEA Central Asia and Jyldyz Isabekova, Country Director of Accelerate Prosperity, Kyrgyzstan.