 Small Grants Program (SGP) of the School for the Advancement of Gender Equality (SAGE)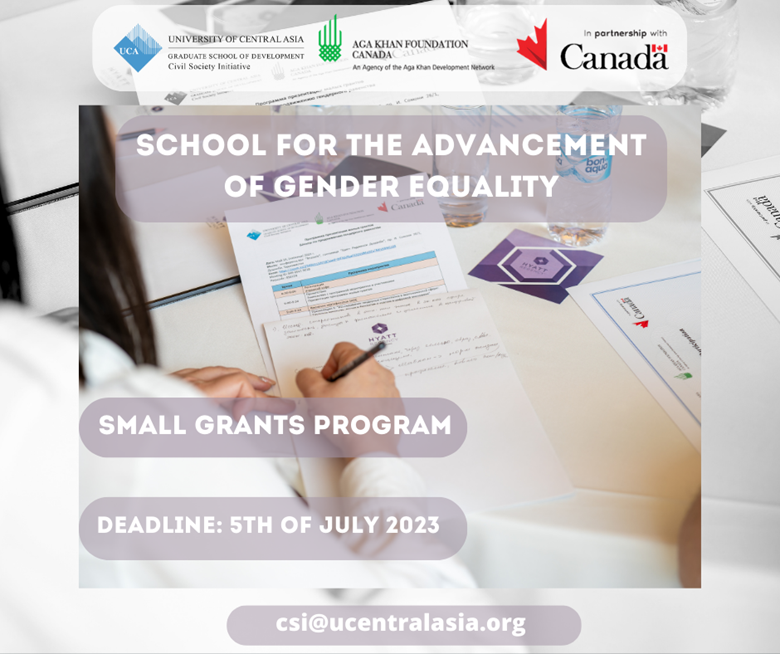 Goal: Support and promote projects on gender equality in Kyrgyzstan and Tajikistan through innovative approaches with transformational potential
The Small Grants Program will provide an opportunity to support and promote gender equality projects in Kyrgyzstan and Tajikistan through innovative approaches with transformational potential. The program encourages out-of-the-box thinking, participatory research, the use of open data and evidence-based approaches, along with advocacy tools.
Applicants must also state how their initiative contributes to SDG Goal 5 - Achieve gender equality and empower all women and girls.
CSI plans to support approximately 10 grants of $5,000 per grant, for projects no longer than five months in duration.
CRITERIA:
Only registered non-profit and commercial organizations, such as civil society organizations, research and analytical organizations (for example, public foundations, public associations, associations of legal entities, consulting and research companies, etc.) in Kyrgyzstan and Tajikistan are eligible to apply for participation in the Small Grants Program to Promote Gender Equality in Kyrgyzstan and Tajikistan
Use of grant funds:
Grant activities may continue at any time during the five (5) months between August 2023 and December 2023.
Up to $5,000 in grant funding will be awarded. Applicants must indicate the duration of the project and the amount of funding requested in their applications. Projects that receive funding may vary in duration but must be completed within the set period for which the funds were originally allocated. Extension of the project implementation period is not allowed.
Funding cannot be used for expenses such as construction, real estate purchases, purchase of alcoholic beverages, entertainment expenses, government salaries, business or first class travel, or debt repayments. Wages and office expenses (eg rent, utilities) not directly related to project implementation are not covered.
Budget estimates must be presented in US dollars; project costs will be paid to the grantee in accordance with the agreed payment schedule in Kyrgyz Som and Tajik Somoni respectively.
All interested candidates can apply at csi@ucentralasia.org
Applications may be submitted in Russian. The application form and budget template in Russian can be found at the link:
https://drive.google.com/drive/folders/1OnDjGSHAQcYLvFluPS5CaXnPCGeeVDHu?usp=drive_link
The following documents must be attached to the application:
A copy of the registration of the applicant's legal entity (downloaded separately and saved in .pdf or .jpeg format).
Experience of the applicant and subcontractor(s) on priority strategic issues (download separately and saved in Word format)
Project activity schedule or Gantt chart (downloaded separately and saved in Word or Excel format)
Proposed budget (downloaded separately and saved in Excel format).
If selected, applicants will be required to provide the following supporting documentation:
Scanned copy of the charter of the organization (.pdf or .jpeg)
Confirmation of a bank account
A copy of the passport or identity card of the director of the organization.
All applicants will be informed of the selection decision in writing. Any questions regarding the small grants program can be addressed to csi@ucentralasia.org
All interested applicants from Kyrgyzstan and Tajikistan must apply no later than July 05, 2023.