 UCA Hosts First National Museum Festival in Osh, Kyrgyzstan
The First National Museum Festival, entitled "Displaying Local Histories in Museum Spaces", will commence at 10:00 am on March 27, 2023, at the "Sulayman-Too" National Historical and Archaeological Museum in Osh, Kyrgyzstan. The Festival is the culmination of the mini-grant competition program implemented by the Cultural Heritage and Humanities Unit of the University of Central Asia with the support of Durham University, United Kingdom.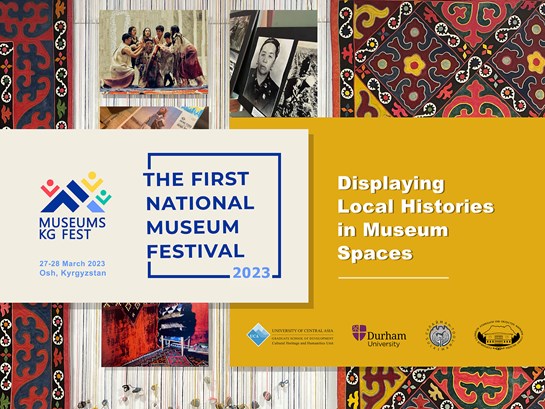 The main objective of the Festival is to promote the development of regional museums in Kyrgyzstan. The Festival aims to showcase museum activities, create a platform for exchanging ideas, experiences, information, and knowledge among museums, and promote engagement with local communities as creators of museum content, not just as passive spectators.
The Festival will bring together state and private museums from across the country that actively involve their audience in museum activities. The competition will assess the effectiveness of various novel and modern programs, educational activities, mobile applications, exhibitions, and conferences, both within and outside the museum spaces.
On March 27-28, all museum projects participating in the competition will be exhibited, and outcomes of UCA's research project entitled "Museums of Kyrgyzstan: Cultural Policies and Local Experiences" will be presented. Prizes will be awarded to the best museum projects based on the Jury's evaluations.