 UCA Presents 600 Books on Economics for Schools in Kyrgyzstan
At a recent meeting with Mr. Kanybek Imanaliev, Minister of Education and Science of the Kyrgyz Republic, UCA presented 600 copies of "Common Sense Economics" textbook translated by UCA' Institute of Public Policy and Administration into Kyrgyz and Russian with the support from the Economic Fundamentals Initiative (EFI). This valuable resource covers the fundamental concepts of economics and is intended to assist school students with the enhancement of their financial literacy. The books will be distributed to schools in Naryn, Yssyk-Kol, and Chui oblasts. It is expected that additional copies will be circulated to schools in other regions of the country at a later date.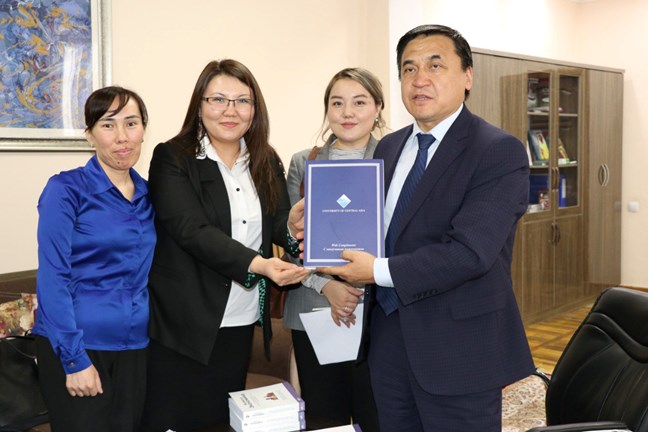 Minister Kanybek Imanaliev (first from right) receiving the books from UCA representatives.
During the meeting, Minister Imanaliev was also briefed about the International Economics Olympiad hosted by UCA in Kyrgyzstan in partnership with EFI. Students in grades 9-11 can participate in this competition free of charge, with the final stage being held in September 2023 in Bratislava, Slovakia. The Olympiad aims to increase school students' awareness of financial literacy and help them make conscious choices about their future profession, focusing on the needs of the labor market.
Minister Imanaliev was also presented with a book on the ancient monuments of Tenir-Too recently published by UCA.