 Exhibition: Historical Reconstruction of a Kyrgyz Warrior's Armor in the 9th and 15th Centuries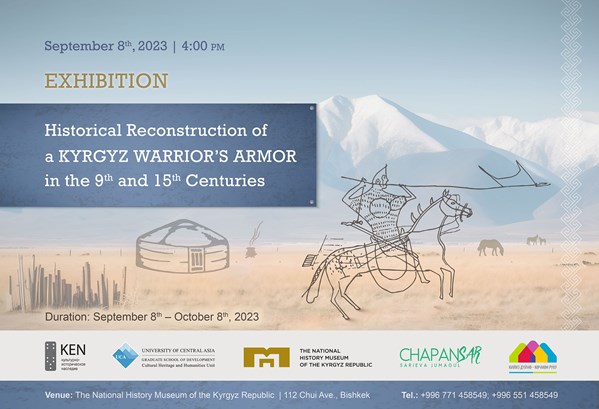 For the first time in Kyrgyzstan, a professional historical reconstruction of the ancient and medieval military armor of Central Asian and Siberian nomads has been conducted by a creative group named "KEN," composed of young researchers, technology engineers, and designers. The project is being implemented in close cooperation with leading archaeologists, historians, and ethnographers from Kyrgyzstan and international experts.
Date: Friday, 8 September 2023, at 16:00
Venue: The National History Museum of the Kyrgyz Republic, 112 Chui Ave., Bishkek, Kyrgyz Republic
Duration: 8 September – 8 October 2023
The exhibition is held with the support and cooperation of GSD's Cultural Heritage and Humanities Unit of the University of Central Asia, "Chapansar" Studio, the Public Fund "Kiyiz Duyno", and the National History Museum of the Kyrgyz Republic.
Download the Press Release in English, Kyrgyz, and Russian.

For additional information, please contact:
Aibek Baiymbetov +996 (703) 051 456 (WA); aibek.baiymbetov@ucentralasia.org.
---
Subscribe to the University of Central Asia's News and Announcements: