 UCA Hosts Machine Learning Bootcamp in Naryn
UCA's School of Arts and Sciences (SAS), in partnership with InkubasiaLab, a regional business accelerator, organised a week-long Machine Learning Bootcamp at its Naryn Campus. The programme brought together industry experts from Silicon Valley, USA to share their knowledge and experience, thus creating a unique learning opportunity for aspiring technology enthusiasts.
Munizha Hashim, a UCA undergraduate student majoring in Computer Sciences and a participant in the Bootcamp, shared her enthusiasm, "Participating in the Bootcamp was an incredible experience. Through this collaboration with industry experts, I gained valuable insights into important topics of machine learning."
Expressing her gratitude, Elaine Young, Co-Founder of InkubasiaLab, said, "We are grateful for the opportunity to partner with UCA and appreciate the University for hosting the Bootcamp on its beautiful campus and providing accommodations and meeting spaces. Our 15 Silicon Valley mentors were impressed with the dedication and enthusiasm shown by participants, and we are confident that they will apply their new skills to make a positive impact in their respective fields."
The Bootcamp not only provided students with a deeper understanding of machine learning theory but also equipped them with practical skills essential for today's job market. With Silicon Valley experts leading the way, participants had the opportunity to gain insights into the industry's latest trends and best practices.
"Considering the importance of Machine Learning in the field of Computer Sciences, it was a unique opportunity for our students to receive training from some of the highly talented professionals. We are committed to providing our students with the best platforms to improve their skills," said Dr Ayman Aljarbouh, Chair, Computer Science Department, SAS, UCA.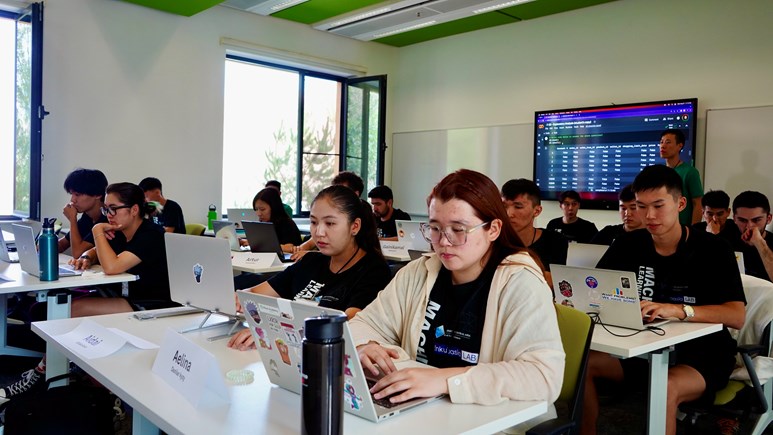 Nurturing the future tech experts during an intensive one-week bootcamp at UCA Naryn Campus.