 Address by the Valedictorian, Karlygash Kussainova, at the First Convocation of the University of Central Asia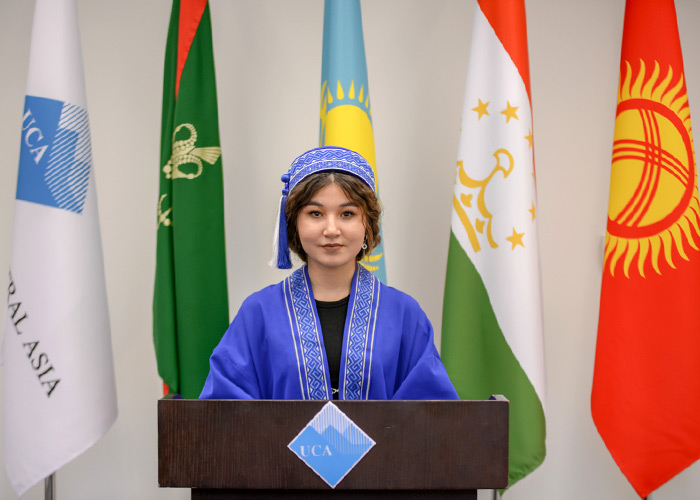 His Highness the Aga Khan, The Board of Trustees, Dr. Naqvi, Dr. Khomyakov, Government representatives, Members of the AKDN, UCA faculty, Staff, parents and my fellow students, my name is Karlygash Kussainova and I am proud to be your Class of 2021 Valedictorian. I am coming to you from the beautiful mountains in Kyrgyzstan, and I want to start with a short story.
Five years ago, a student from Central Asia came to this very campus, and met her fellows from Kyrgyzstan, Kazakhstan, Tajikistan, Afghanistan, and Pakistan. This student knew nothing about UCA and how the next 5 years were going to look like. The student was scared, nervous and anxious, but excited about the upcoming adventure. Suddenly, faculty, staff, administration along with the management team came to welcome the student and help take her luggage to the dorm room. This student felt a sense of relief from this strong support of the people around.
This support continued for the next five years. I remember during the first year, Dr. Shamsh Kassim-Lakha would come to campus, roll up his sleeves, stand in the dining hall line with the student and showed so much interest. The student then felt heard.
The next year, Dean Diana Pauna joined UCA and met with each student while finding time to travel back and forth between campuses. The student felt valued as one piece of a bigger puzzle that makes up UCA at that moment.
And throughout these five years, Erik and Shabana were there for the student to support them with every initiative, no matter how small or big it was. As the time passed, the student's anxiousness was replaced by confidence, determination and courage.
You might think this is the story of me, Karlygash from Kazakhstan, and it is, but I am telling you the story of every single student graduating here today. This may seem to be very personal, but that is what makes the UCA community so unique from other institutions around the world: our educational experience has been distinctly personal.
On behalf of the inaugural class of 2021 I would like to thank all of the individuals who have made UCA an excellent place to be.
To His Highness the Aga Khan and the Board of Trustees for you vision and for the wisdom of creating a world-class university in these remote Central Asian mountains, we thank you.
To the senior management, administration and operations teams, for overseeing the school and making the tough calls when needed, we thank you.
To the Faculty, who give your all, labouring to provide us with tremendous education and pushing us to do our best even on the days we don't have the motivation to focus, we thank you.
To the student life team, for working tirelessly and coordinating our lives and supporting us, we thank you. To every representative of every family in the senior class, parents, guardians, sisters, and brothers, whose support, sacrifices and dedication have not been overlooked, we thank you.
UCA taught us how to be a community that seeks prosperity and development. It provided us with a platform where students can develop leadership skills. As a result, over 35 clubs including Debate, Model United Nations, Sports teams, TEDx and many more were initiated by students in the class of 2021. Moreover, our students not only succeeded locally, but also gained international experience in Cambridge, Munich, Cape Town, Tashkent, Nairobi, Ottawa, Vienna, Bangkok, and others.
Faculty members provided us with opportunities to broaden our research skills, and by today, we have 10 students publishing their works in prestigious academic journals.
Various events organized by UCA and SPCE inspired my fellows to realize their own ideas. As a result, the students of the class of 2021 are working with local companies and the government selling and promoting their ideas.
Also, over 50 students among our graduates are part of community service projects such as tutoring, eco-activism, fundraising activities, and cultural events inside as well as outside UCA.
All of these experiences and skills that we accumulated are our own way to contribute to UCA's mission to develop local communities, get an internationally recognized education and serve the community preserving our cultural heritage.
I finally would like to say that it is an honour to be delivering this speech today. But I never wanted this speech to be a typical valedictorian speech. Saying that we will always look back on these days or that it's a new beginning. But these are the truth; we WILL look back on the days when we had sleepless nights preparing for the exams in the quiet study rooms, or the evenings we spent under the bridge area sharing stories from our cultures.
We WILL look back remembering the days when we had bonfires and trivia nights. And we WILL surely remember 'gratitude dinners.' Actually, I can go on for hours with all the things we will miss about UCA. But most importantly, we WILL look back on the days we formed unbreakable family bonds and we will always remember those who are not with us today, especially our classmate Temirkhan Turgumbaev whose spirit is in our hearts.
Another truth is that this IS a new beginning: some of my fellows are continuing their education and already received admission to well-known universities like University of Waterloo, University of Paris, Cardiff University, while others already received offers from internationally recognized companies.
The journey began here, and truly, a brighter journey is awaiting us! The class of 2021 is truly the first and definitely the most unique. There were times we struggled academically, personally, and recently with the Covid-19 pandemic, but we are still standing here ready for the next step.
And to my classmates, as we move to climb new mountains, I wish that we continue with curiosity, kindness, and bravery. I hope that we keep our witty sense of humour and our energetic dance moves, which allowed us to overcome obstacles with optimism.
So, let's do it! Let's change the world and remember where we've started.