 Workshop on Social Innovation and Entrepreneurship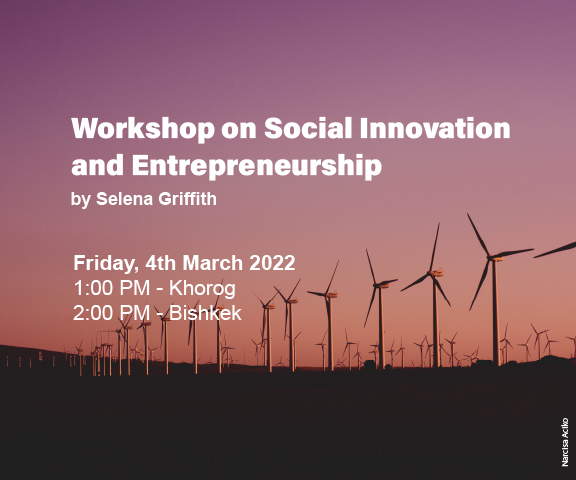 We are pleased to invite you to one-hour workshop delivered by Selena Griffith.
Selena Griffith is a Visiting Faculty at UCA, based in Sydney Australia. She is a Designer, Educator, and Facilitator with extensive experience delivering innovation in Business, Government, and Tertiary Sector contexts. She leverages design to support Sustainability, Social Impact, Innovation and Entrepreneurship. She has authored books on Collaboration, Innovation, and Entrepreneurship and works with teams to enable them to deliver outstanding projects.
Selena is visiting Naryn Campus this week and is hoping to meet with students and staff. She will be presenting on Social Innovation and Entrepreneurship and the value it brings to local economies. Three social enterprise case studies will be shared in the area of Creative Industries, STEM Education, and Circular Economy Agribusiness. 
Date and Time: 4 March 2022; 2 PM (KGT).
Location: Yellow Classroom (209), Naryn Campus.
Zoom Link: https://us02web.zoom.us/j/84562303938?pwd=OCtlaFMwVituQUxRYjdFT1BJdENDUT09
Meeting ID: 845 6230 3938
Passcode: 741342