 UCA Publishes Book on Ancient Monuments in Kyrgyzstan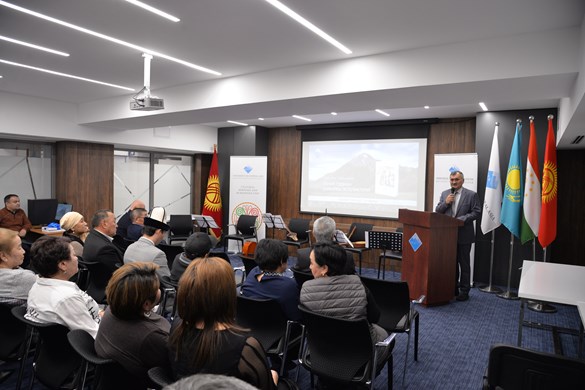 Dr. Kubatbek Tabaldiev welcoming guests to the book presentation event.
Since its founding, the University of Central Asia (UCA) has supported the research and documentation of cultural, historical, and archaeological heritages of Kyrgyzstan and the broader Central Asian region. As part of this effort, the University launched a seminal work by a prominent Kyrgyz archeologist, Dr. Kubatbek Tabaldiev entitled "The Ancient Monuments of Tenir-Too". The presentation of the book was held at a special event at UCA in Bishkek on December 15. The event was attended by well-known historians, archeologists, scholars, museum specialists, and media.
"I am grateful to UCA for its long-term collaboration and support of regional scholars in publishing and disseminating their fundamental works on cultural and historical heritages of Central Asia to a wide range of audiences," said Dr. Tabaldiev speaking at the book launch.   
The new work of Dr. Tabaldiev builds on archeological research captured by his earlier book on this topic published by UCA in 2011. Since then, the author has discovered many new archeological materials including findings related to the cultural history of ancient and medieval tribes of Tenir-Too (Tien-Shan) mountains and has included them in the newly published book. It also contains multiple illustrations attempting to reconstruct objects and rituals that ancient people interacted with.
The author's recent discoveries offer an unorthodox view of the history of the ancient and medieval populations that resided on the territory of Kyrgyzstan. He challenges the existing view that considers the lifestyle of these populations as being exclusively nomadic. The book was published in limited copies in the Russian language. The English version is expected in 2023.
According to Dr. Elmira Kochumkulova, Director of the Cultural Heritage and Humanities Unit of UCA's Graduate School of Development, Dr. Tabaldiev's work contributes to the better understanding of the historical heritage of Central Asia. The author provides important insights into the complex archeological past of ancient populations that inhabited the territory of present day Kyrgyzstan.