 UCA Researchers Identify Drought Surviving Beans
Scientists working at the University of Central Asia (UCA) have recently published a paper about common beans that can adapt to harsh climatic conditions.
The study should help farmers cope with agronomic challenges presented by dry, high elevation mountains prevalent in Afghanistan. However, these findings are especially relevant to the looming food crisis. According to the Integrated Food Security Phase Classification (IPC) projections for 2022, 23 million people or about half of the Afghan population will experience acute food insecurity and suffer from hunger in the next six months.
Beans along with other legume crops play an important role in the diet of Afghan peoples. Common beans are rich in antioxidants, minerals, and vitamins, and contain chemicals which are associated with reducing risk of cancer.
In recent years, the production of common beans has increased on Afghan farms. However, production of these plants also introduced a serious challenge: common beans are more prone to water stress. For example, research from Brazil, Chile, and Iran shows that severe water deficit significantly reduces the productivity of bean plants.
Afghanistan is known for its arid and semi-arid climate with very little rainfall during the summer.
In the past decades, the droughts leading to a shortage of water had adverse effects in dry mountainous areas of Afghanistan. These droughts led to significant reduction of cultivated lands and worsened the harvests. Low rainfall presents an additional challenge for food security issues faced by Afghan families, particularly children.
The University of Central Asia research was conducted in cooperation with Bamyan University.  Both men and women, who represented members of the local faculty, young research assistants, and students of Bamyan University developed and contributed to projects built around the topics of food security, livelihoods improvement and environmental resource conservation in Bamyan province, in the western part of the Hindu Kush mountains known for their cold winters and restricted irrigation.
To account for any environmental stress, researchers implemented a set of studies with common beans over the course of two years. In 2018, researchers planted several varieties of common beans, including pied, red, white, black, and motley beans. At the end of the first year, UCA scientists identified two types of beans – red and pied beans – that adapted to dry conditions and were harvested in early season. Early harvest avoids the water deficit that might happen in the late growing season.
Over the second year, red beans demonstrated higher grain weight and yield production. Higher grain weight is an indicator of plant's ability to resist diseases, insects, or environmental conditions that all reduce nutrient density. Higher grain weight usually results in the higher energy values of the bean.
Yield production implies the mass of harvest crop product in a specific area, which is another critical factor for any agricultural product. Moreover, yield production is also important in potentially generating higher incomes for farmers.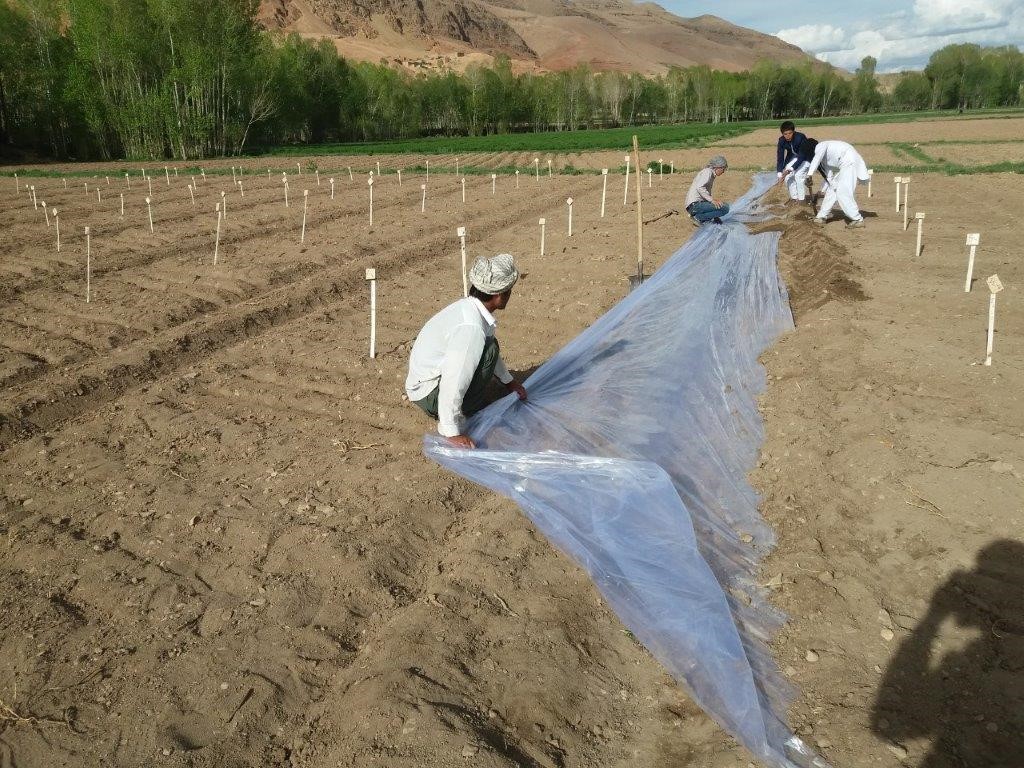 UCA research, recently published in Agronomy, says that "red bean plants are the best option given the dry and harsh climate patterns associated with this mountainous region of central Afghanistan, particularly when irrigation water is in limited supply".
However, both varieties – red and pied beans - should be considered as suitable for agriculture in the region.
Fieldwork in Afghanistan has been realised within the framework of the UCA's Pathways to Innovation (P2I) programme, a three-year programme to promote knowledge and analytical skills in mathematics, science, and economic policy in Afghanistan, Kyrgyzstan and Tajikistan. The programme was funded by the International Development Research Centre and the Aga Khan Foundation Canada.
From 2017 to 2019, five applied research projects were implemented in Bamyan province, Afghanistan. They covered a range of agricultural and horticultural concerns, including cost-benefit analysis of crop variants; approaches to increase productivity and land efficiency of traditional or new crops, including off season crops; the identification of drought resistant crops that are better adapted to the drastic and unpredictable changes in weather patterns and rainfall associated with climate change; and strategies to maximize other mainstays of community livelihoods, such as tourism or water management.