 Open Call: Best Policy Brief on Transport Decarbonisation in Central Asia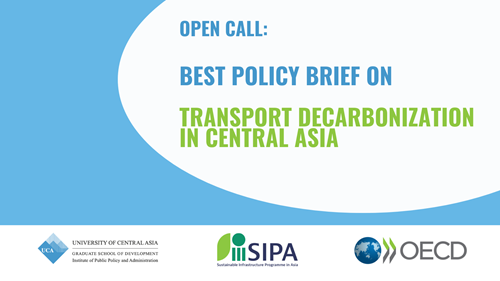 The Institute of Public Policy and Administration (IPPA) of the University of Central Asia (UCA), in partnership with the OECD Sustainable Infrastructure Programme in Asia (SIPA) team, invites Master and PhD students, researchers, academics, experts, policymakers, think tanks, transport industry leaders, and representatives of civil society from Kazakhstan, Uzbekistan, Kyrgyzstan, Tajikistan, and Mongolia to submit original Policy Briefs on the transition to sustainable transport infrastructure in Central Asia region or on the topics listed below:
Decarbonisation of the transport sector in Central Asia
Planning of decarbonisation transport and sustainable transport infrastructure
Financing of decarbonisation transport and sustainable transport infrastructure
Assessment of institutional and policy environment for transition to the decarbonisation of transport and sustainable transport infrastructure
The call is open to individuals or teams with a maximum of 3 members per team.
By the 24th of April 2023, all interested candidates should fill in the registration form: https://forms.office.com/r/KejaXH8ipf
All registered participants can pass a special online Training on Policy Brief Writing if they indicate their interest in the registration form. The training participants will learn how to use findings of past or ongoing analytical works or professional projects to develop a Policy Brief. The training will be recorded and accessible for registered participants through the SIPA website.
By the 15th of May 2023, shortlisted participants will be invited to submit Policy Briefs (1,500 – 3,000 words) in PDF format in Russian or English language, according to followed up instructions on the format, structure, and the number of words.
All Policy Briefs will be evaluated to check their thematic relevance, originality, evidence base, structure and readability, quality of analysis and suggested recommendations.
The authors of three best Policy Briefs will be contracted to present their studies during the SIPA webinar in June 2023 and receive honorarium:
The 1st best Policy Brief: USD 1,500
The 2nd best Policy Brief: USD 1,000
The 3rd best Policy Brief: USD 500
In case of any additional questions, please contact us by e-mail: ippa@ucentralasia.org